Dear Guitar Friends,
It's been a great year for the Guitar Society and I want to thank everyone who has come out to support us, play for us, and enjoy the music. And thanks to everyone who came out to listen to, and perform at the opening Winter Guitar Concert at Corvallis-Benton County Library on December 16th, our final event for 2017.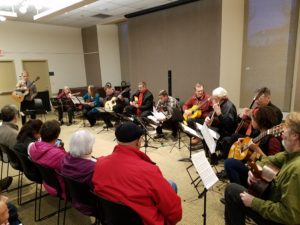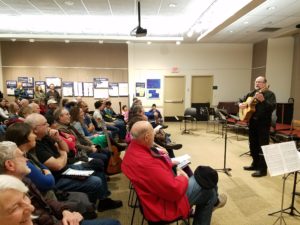 The concert was a gem in the crown of the goals of the Guitar Society to bring local guitarists out of the woodwork and to encourage participation in the wonderful world of guitar music. It was a great turnout and much fun was had by all.
We also had a great turnout for the December 4th meeting at Odd Fellows which featured another gem in the crown with a fantastic performance by the Oregon Guitar Quartet. It was a real privilege to host such talented guitarists at the Guitar Society and they inspired and impressed us all. Thank You!
Looking forward to the New Year, here's a summary of what is coming up in the world of guitar in and around Corvallis:
The first meeting of the year will be Monday January 8th 2016 (because the first Monday is January 1st and therefore a holiday).
Following the great ensemble performance by members of the Guitar Society at the Winter Concert, we are taking a break and changing the meeting format for a couple of months. In January we are going to offer a guitar workshop for people to join in and enjoy, and extending the open stage.
7:00 – 7:05pm Welcome
7:05 – 7:50pm Guitar Workshop – bring your guitar and learn some great technique from Flamenco maestro Berto Boyd!
7:50 – 8:00pm BREAK and Refreshments
8:00 – 9:00pm Open Stage
Entrance is FREE and open to the public (donations gratefully received).
Location: Odd Fellows Hall, 223 SW 2nd St, Corvallis, OR 97333. The entrance is between New Morning Bakery and Sedlaks Boots and Shoes.
OSU a' La Carte Lunchtime concert Friday Jan 12th 12:00 Noon
CONCERT FEATURING JON SHARP CLASSICAL GUITAR, AND SOPRANO REBECCA FROMHERZ IN THE STUDENT MEMORIAL BUILDING; wonderful Soprano Rebecca Fromherz and classical guitarist Jon Sharp will be kicking off the OSU a' La Carte Lunchtime Concert Series. This free, lunch-hour concert series has been a tradition at Oregon State University since 1969. The concerts take place in the Memorial Union Lounge, beginning at 12 p.m. and lasting for approximately 45 minutes. We will be performing works by Heitor Villa-Lobos, John Dowland, Andrew York, and others.
Winter Concert Series Continues at the Corvallis-Benton County Library…
Saturday Jan 20th  2018, 3:00 PM
CONCERT FEATURING FLAMENCO GUITAR DUO BERTO BOYD & GRANT RUIZ
Berto Boyd and Grant Ruiz will perform original Flamenco music from their CD "Convivencia". Their group Flamenco Pacifico has been a favorite among Oregon festivals such as Oregon Shakespeare Festival, Oregon Country Fair, Britt Fest and DaVinci days. Web: www.flamencopacifico.com
Saturday Feb 17th  2018, 3:00 PM
CONCERT FEATURING CLASSICAL GUITARIST JON SHARP & SOPRANO REBECCA FROMHERZ
This concert will feature music from South America including Heitor Villa-Lobos, one of Brazil's greatest composers, along with Argentineans Jose Luis Merlin and others. We will also explore some of the modern compositions by American guitar maestro Andrew York and look back at early music from Europe that inspired the New World.
Spring Concert Presented by the Corvallis Guitar Society and Corvallis Arts Center Sunday April 8th 2018
CONCERT FEATURING CLASSICAL GUITARIST CAMERON O'CONNNOR AND PIANIST HUI WU
We are very pleased to be working with the Corvallis Arts Center to present the spring concert on the afternoon of Sunday April 8th. This promises to be a fantastic musical experience featuring two top flight musicians who will be performing a combination of solo and duet works.
New local Maestro Cameron O'Connor, the guitar instructor at OSU, is an award-winning and critically acclaimed guitarist who enjoys a diverse career in solo, chamber, and contemporary music. In a review of his debut at the Lincoln Center, the New York Times observed that Cameron "fluttered on his guitar strings in a manner reminiscent of a pipa player's technique." Recent and current performance engagements include those with John Adams, Michael Tilson Thomas, the New York Virtuoso Singers, and Boston's Firebird Ensemble. His playing has been featured in films, including James Franco's Don Quixote, and his performances have been heard on Seattle's Classical 98.1 KingFM, American Public Media's Performance Today, and KPFK's Global Village. He is furthermore a prizewinner in 10 international competitions, including the Frances Walton and Tokyo International Guitar Competition.
Check out some of his performances online: http://www.cameronoconnor.com/video.html
Pianist Hui Wu was praised as "sparkling" by The New York Times and "a rising star" by China Musical Weekly, pianist Hui Wu has continued to display her versatility in a creative approach to programming which stems from a contemporary/classical music duality. Recent performance highlights include premieres in Los Angeles Philharmonic Composer Fellowship Concert at Disney Concert Hall; "Art as Activism" concert with Christopher Rountree and contemporary ensemble wild Up; debut of her "Lone Journey" multimedia project in collaboration with the USC Thornton Arts Leadership Program; chamber music appearances in China with violinist Rainer Honeck (concertmaster of the Vienna Philharmonic Orchestra), and in Los Angeles with Stefan Dohr (principal horn of the Berlin Philharmonic) and Stefán Ragnar Höskuldsson (principal flutist of the Metropolitan Opera Orchestra).
Check out some of her performances online: http://www.huiwupianist.com/media/
Guitar Festival  Weekend of June 8th and 9th
Following the success of our first festival in 2017, we will be presenting Corvallis' Second Annual Guitar Festival in June 2018. We are in the process of establishing the agenda for the festival, but we are delighted local maestro Cameron O'Connor is going to open the event for us with the Friday night concert. We are in the process of securing the Saturday Headline artist who, assuming all goes ahead, will be fabulous J
We wish you all the very best over the festive season and I hope to see you at the Society Meeting on January 8th. Happy New Year!
Best Regards
Jon Sharp
President, Corvallis Guitar Society